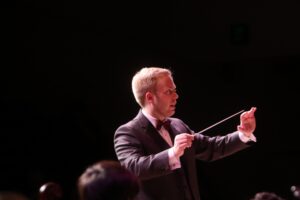 Biography
Mr. Dan Horstmann is currently the Director of Music at Fairfield College Preparatory School in Fairfield, Connecticut; Director of Music at St. Joseph Catholic Church in Shelton, Connecticut and Assistant Director of the Fairfield University Pep Band. Previously he was the Director of Praise Project Choir and Ensemble at Fairfield University in Fairfield, Connecticut, as well as the Founder of Note The Way Music Ministry in Arlington Heights, Illinois. Mr. Horstmann has more than 10 years of experience as a church music professional, serving as parish/community music director, pianist, cantor, and percussionist.
In 2016, Mr. Dan Horstmann received the Bachelor of Arts degree with an emphasis of study in both Music and Communication as well as Entrepreneurship and Catholic Studies.
While studying at Fairfield University, he performed with the Fairfield University Glee Club and the Chamber Choir. In addition, Mr. Horstmann has performed in the Jazz Ensemble as a percussionist and has composed/arranged pieces for each musical group. You can find Mr. Horstmann performing with a local Connecticut based band called The Lionfish. Please visit www.thelionfishband.com for more information.
Most recently in 2019, Mr. Dan Horstmann received a Master of Science in Music Education which continued his studies in music pedagogy and ensemble development from the University of Bridgeport.